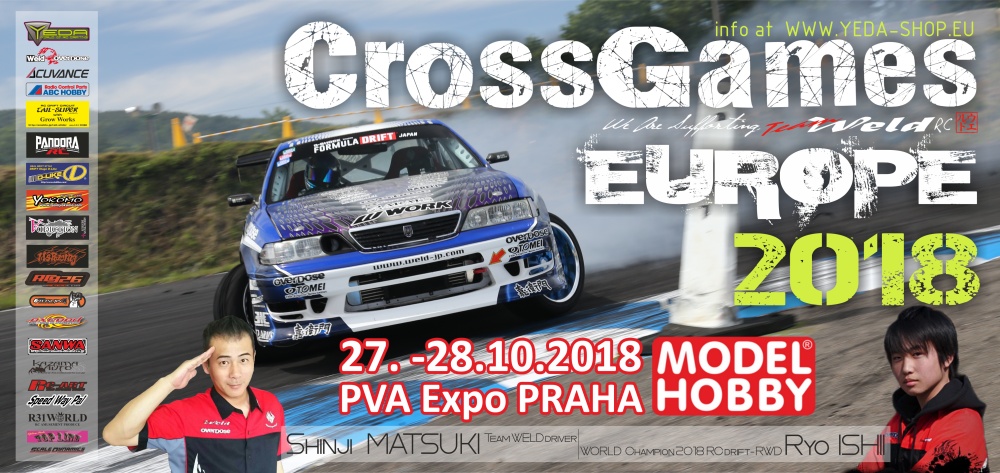 [ENG]
 Basic information about Cross Games Europe 2018
27. - 28.10.2018
PVA EXPO Letnany - Prague
Cross Games will be a part of the model exhibition Model Hobby 2018. It is being held since Thursday 25.10.2018 till Sunday 28.10.2018. Pits will be available during the entire Model Hobby. Thursday and Friday for free practice for anyone coming. Competition on weekend just for registered drivers. Model Hobby entrance and tires are part of the entry fee.
Each driver CAN drive in both categories. Entry fee for one category is € 39,-, for both categories € 49,- . Within the registration fee, each drifter has free entrance to all 4 days and tires for the registration category. The maximum number of registered riders is 100 people.
Cross Games are a part of Japanese competition series, judges are Atsushi Ito and Shinichi Yodo. Of course accompanied by Takayuki Shida, who will provide us the translation. Right now We're not sure about the names of Japanese drivers, but We would be happy to bring back 2018 World Champion Ryo Ishi...;-)
If You come by plane, Václav Havel's AirPort is on the other side of the city. I can arrange transport for You, but You must let me know the time of Your arrival.
Accomodation:
I am not able to arrange accomodation for  so many people, I can only recommend using Booking.com. There is a subway station not far from PVA, so You can choose according to Your needs. 
IMPORTANT NOTICE!!!
Sunday 28.10.2018 is a public holiday and a celebration of 100 years of Czech statehood. There might be a lot of people coming to Prague, so it's recommended to find accomodation earlier. Also all the shopping centres will be closed on Sunday. 
PARKING
There is a large parking lot at the Exhibition area. You should park at the Entrance D. Parking fee is CZK 150,-/day, it is paid when leaving the parking lot. 
OPENING HOURS
Thursday-Saturday 9.00-18.00
Sunday 9.00-16.00
You will have Exhibitors pass which will allow You to enter an hour earlier and leave later. 
REGISTRATION
To sign in send an e-mail to 
crossgameseurope@gmail.com
 containing Your name, country and category You want to compete in. Also note, if You want to pay via bank transfer or PayPal. You will then get a confirmation e-mail with the invoice. Entry fee must be paid until 14.10.2018. You Registration will not be valid without the payment. 
Basic rules:
The chassis must have two axles and four wheels. The chassis must be 257mm or 275mm in the currently available wheelbase. The batteries can be used with 6CL Nimh / NiCl, Li-pol 2S. Motor commonly used in drift cars without Turn restrictions. The Lipo Bag must be used for charging. Tires must be used for the race, which the competitors will receive when registering a participation. Tires for RWD will be DS-Racing RW-001 Mark II and for AWD DS-Racing DS-016 FFFF.
More info coming soon. 
Important warning!!!! Bring a good mood with you!!! :-) :-) :-)
Tomáš "VIKI" Viktora
[CZ]
Základní informace ke Cross Games Europe 2018.
Termín je 27. a 28.10. 2018.
Místo konaní je Výstaviště Praha Letňany, 
Cross Games se budou konat jako součást modelářské výstavy Model Hobby 2018. Tato výstava se koná od čtvrtku 25.10 do neděle 28.10.2018. Celé zázemí pro Cross Games bude přichystáno po celou dobu výstavy od čtvrtku do neděle. Čtvrtek a pátek budou volné dny s volným ježděním a tréninkem. Samotný závod bude pouze v sobotu a neděli. Ti z Vás kteří chtějí, múžou jezdit celé čtyři dny. V sobotu a neděli pouze jezdci přihlášení k závodu. O víkendu nebude prostor pro volné ježdění.
V rámci registračního poplatku ma každý drifter volný vstup na všechny 4 dny a gumy na danou kategorii. 
Každý jezdec se MÚŽE účastnit obou kategorií. Je to jen na jeho rozhodnutí... Startovné pro jednu kategorii je 990,-Kč/ 39,-€. Na obě dvě kategorie 1 250,-Kč/ 49,-€. V ceně je volný vstup na výstavu na všechny čtyři dny, židle s místem u stolu, přístup k elektrice a kompletní sada gum na registrovanou kategorii. Maximální počet registrovaných jezdců je 100 lidí.
Cross Games je japonský závod. Proto i letos budou soudci Atsushi Ito a Shinishi Yodo. Bude zde samozřejmě náš věrný tlumočník Takayuki Shida. Je zatím otevřená otázka jappnských jezdcú. Ta bude uzavřena později... Ale všichni bychom uvítaly účast mistra světa v RWD kategirii pro rok 2018 Rya Ishiho... ;-)
Pro mimo České zájemce o Cross Games, kteří mají zájem o leteckou přepravu, pražské letiště se jmenuje Leťiště Václava Havla. Je na opačné straně města. Jsem shopen Vám zajistit přepravu. Potřebuji to ovšem vědět dostatečně dopředu i s termínem a časem příletu.
Ubytování
 Není v mých silách zajistit nějaký společný hotel. V žádném hotelu již není tak velká volná kapacita pro ubytování tolika lidí dohromady. Můžu doporučit k hledáni ubytování Booking.com a použít jako centrum adresu výstaviště. Každý z Vás má jiné nároky na ubytováni a jeho cenu. Takže bude ideální, když si každý vybere to své. V blízkosti výstaviště je zastávka Metra. Pak není žádný větší problém cestovat po celém městě...
DŮLEŽITÉ UPOZORNĚNÍ!!!
V neděli 28.10.2018 je v České Republice státní svátek. Bude to 100let České státnosti. Věřím, že v pražských hotelích bude poměrně plno. Proto pokud máte v plánu se zúčastnit Cross Games Europe 2018, nenechávejte svou rezervaci ubytování na poslední chvíli. Už by jste nemuseli nic sehnat. V neděli budou taky zavřeny všechny velké obchody a obchodní centra. Takže pokud by jste chtěli vy a nebo drahé polovičky šopovat, nenechávejte to na neděli... :-)
Parkování.
Hned vedle výstaviště je velké parkoviště. Obvykle tam chtějí cca 150,-Kč na den. Je dobré zaparkovat co nejblíže bočnímu vchodu z toho parkoviště. Potom je to jen pár kroků do haly.
Otevírací doba výstaviště je každý rok stejná.
Čtvrtek 9.00-18.00
Pátek 9.00-18.00
Sobota 8.00-18.00
Neděle 8.00-16.00
Vy jako účastníci Cross Games budete mít vystavovatelské pasy. Vás pustí do areálu o 1 hodinu dříve než je otevírací doba a vyhosdí Vás nejpozději mezi 20.00 a 21.00 hodinou.
Registrace
Pro registraci pošlete registrační email na adresu 
crossgameseurope@gmail.com
. Do emailu uveďte své jméno, zemi kde žijete a kategorie, o ktere máte zájem. RWD, AWD a nebo OBĚ....
Dále prosím uveďte, jakým způbobem budete chtít hradit registrační poplatek. Jestli bankovním převodem a nebo paypalem. Následně Vám přijde potvrzení Vaší registrace zpět na Váš email i s fakturou na registrační poplatek. Ten musí být uhrazen nejpozději do 14.10. 2018. Jinak nebude brána Vaše registrace v potaz.
Základní pravidla:
Podvozek musí mít dvě nápravy a čtyři kola. Podvozek musí být v běžně dostupných rozvorech náprav 257mm a nebo 275mm. Baterie mohou být použity 6CL Nimh/Nimc, Li-pol 2S. Motor běžně používaný v driftových autech bez omezení závitů. Pro nabíjení musí být použit Lipo Bag. Na závod musí být použity pneumatiky, které závodníci dostanou na místě při registraci účasti. Pneumatiky pro RWD budou DS-Racing RW-001 Mark II a pro AWD DS-Racing DS-016 FFFF.
Další informace budou přibývat...
Důležité upozornění!!!! Dobrou náladu sebou!!! :-) :-) :-)
S pozdravem
Tomáš "VIKI" Viktora
List of registered riders:
Registrovaní jezdci:
1) Tomáš Viktora            CZ      -----      RWD
2) Lukáš Janík                SK      AWD     RWD
3) Martin Šrédl               CZ      AWD     RWD
4) Marcel Fapšo              SK      AWD     RWD
5) Jirka Princezna           CZ      AWD     RWD
6) David Buček               CZ      AWD     -----  
7) Luděk Odstrčil            CZ      AWD     RWD
8) Lucia Jarabkova          SK      -----      RWD
9) Martin Čáslava           CZ       AWD     RWD
10) Honza Šidik             CZ       AWD     RWD
11) Ramon Malovec        SK       -----     RWD
12) Adrian Janiszewski    PL       AWD     -----
13) Jan Smrčka              CZ       -----     RWD
14) Rafał Oliński             PL       AWD     -----
15) Michał Grzejszczak    PL       AWD     -----
16) Grzegorz Kopeć        PL        -----     RWD
17) Vít Pfeffer                CZ       AWD     RWD
18) Jiří Pfeffer                CZ       AWD     RWD
19) Daniel Hák               CZ       AWD     -----
20) Radoslaw Rogala      PL        AWD     -----
21) Milan Mejzlík            CZ       -----     RWD
22) Marcin Hausman       PL       -----     RWD
23) Philippe Nicolet         CH      -----     RWD
24) Tomasz Krzywda       PL       -----     RWD
25) Artur Wilk                PL       -----     RWD
26) Bertrand Lavanceau  FR       AWD     -----
27) Marcin Wójcik           PL       -----     RWD
28) David Mathaus         CZ       -----     RWD
29) Christian Řezníček    CZ       AWD     RWD
30) David Plechot           FR       AWD     -----
31) Mantas Litvaitis        LT        -----     RWD 
32) Petr Folvarčný          CZ       AWD     RWD
33) Martin Srba             CZ        AWD     -----
34) Oliver Taraba           AT        -----      RWD
35) Krzysztof Osiadacz   PL        -----      RWD
36) Honza Dvorský        CZ        AWD     -----
37) Ondřej Trčka           CZ        AWD     -----
38) Zdeněk Flajsar        CZ        -----      RWD                          
39) Petr Koukal             CZ        -----      RWD
40) Aurelijus Janulis       LT        -----      RWD
41) Jacquelin Vincent     FR        AWD      -----
42) Jeremi Huguet         FR        AWD      RWD
43) Václav Jireš             CZ        -----      RWD
44) Julien Noth              CH       AWD      -----
45) Nuno Vieira              FR       AWD      -----
46) Roman Nahum         CH       AWD      -----
47) Thomas Valentin       FR       -----      RWD
48) Jean-Philippe Junod   CH      AWD      -----
49) Vincas Zaleckis         LT        -----      RWD
50) Eduardas Losis          LT       -----      RWD
51) Genillon Pascal          FR       AWD     -----
52) Genillon Remy           FR       AWD     -----
53) Genillon Alexis           FR       AWD     -----
54) Artūras Agadžanianas  LT      -----      RWD
55) Rosťa Štourač            CZ      -----       RWD
56) Radoslaw Rewinkowski PL     -----       RWD
57) Nicolas Unser              CH     AWD      -----
58) Adrian Möchel             AT      -----      RWD
59) Michał Wąsik              PL       AWD      -----
60) Paweł Wąsik               PL       AWD      ----- 
61) Michel van den Hoogenband   NL   ---- RWD
62) Mateusz Zimoń           PL       AWD       RWD
63) Milan Voráč                CZ      AWD       -----
64) Jan Černík                  CZ      -----       RWD
65) Wiktor Słomski            PL      -----       RWD
66) Owen Slagtand            NL     -----       RWD
67) Kryštof Zetek              CZ     -----       RWD
68) Jiří Čefelín ml.            CZ      AWD       -----
69) Jiří Čefelín st.             CZ      AWD       -----
70) Marek Stáňa               CZ      AWD       RWD
71) Victor Ding                 AT      -----        RWD
72) Dominik Batke            AT      AWD       RWD
73) Povilas Žukovskis        LT      -----        RWD
74) Antanas Pavilionis       LT      -----        RWD
75) Tomáš Mikšl               CZ      -----        RWD
76) Jakub Mikšl                CZ      -----        RWD
77) Attila Kováts              SK      -----        RWD
78) Grzegorz Nowak         PL      -----        RWD
79) Ján Majerník              SK      -----        RWD
80) Rok Stopar                 SI      AWD        RWD
81) Florian Fleißer            DE      -----        RWD
82) Sven Malcherczyk      DE      -----        RWD
83) Marco Kraft               DE       -----        RWD
84) Karel Sulanský          CZ       AWD        RWD
85) Simen Gulbrandsen     N       AWD        RWD
86) Sondre Gulbrandsen    N       -----        RWD
87) Laszlo Norbert Vajk     HU     -----        RWD
88) Amann Markus            DE     -----        RWD
89) Samir Freakach           DE     -----        RWD
90) Tomáš Drga                SK     -----        RWD
91) Martin Karásek            CZ     -----        RWD
92) Matěj Dukát                CZ     AWD        -----
93) Grzegorz Gruszecki      PL     -----        RWD
94) Dennis Bjune              N       -----        RWD
95) Shinji Overdose          JP      -----        RWD
96) Ryo Overdose             JP      -----        RWD