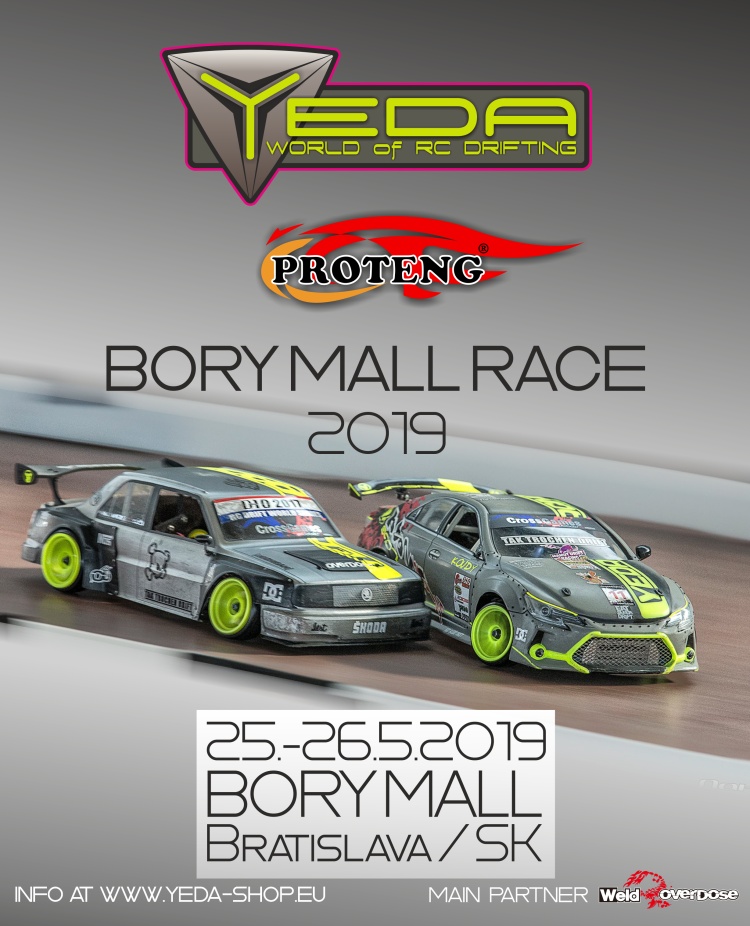 YEDA BORY MALL RACE 2019
YEDA BORY MALL RACE 2019 je první námi pořádaný závod v roce 2019. Uskuteční se v přibližně stejném termínu a na stejném místě jako vloni. A to v obchodním centru BORY mall v Bratislavě/ SK.
Místo konání: Bory Mall, Lamač 6780, Bratislava, 841 03, Slovak republic,   GPS  48.205333  17.032013
V BORY mallu budeme řádit dva dny 25. a 26.května 2019. V sobotu 25.května bude volné ježdění a tréning. Závod samotný začne v neděli 26.května v 9,00hodin. Dráha bude po oba dny stejná.
I tento rok budeme mít nachystanou kobercovou dráhu na největším prostranství v BORY mallu. Budeme mít pro Vás nachystány stoly, židle, zásuvky s elektřinou a vyvýšené pódium pro jezdce.
Předpoklad je takový, že pojedeme obě kategorie. CSka i zadokolky. U zadokolek se nebojím, ale pro CSka je potřeba minimální počet 6ti jezdců, aby se ta kategorie jela.
Startovné pro jednoho jezdce a jednu kategorii je ve výši 400,-Kč/ 16€. Startovné je splatné na místě v den závodu. Závodníci mají v ceně přístup na dráhu oba dva dny. Pokud si bude chtít někdo jen nezávodně zajezdit, může pouze ve volnou sobotu 25.5. Cena pro volné ježdění je 200,-Kč/8€ na osobu.
V ceně nejsou pneumatiky. Pro kategorii RWD jsou předepsány DS-Racing MarkII RW-001 a pro AWD DS-Racing FFFF DS-016. Bude možné je zakoupit i na místě. Gumy nesmí být poškrábány a zdrsněny.
Registrace do závodu přijímáme nejpozději do středy 22.května 2019 na emailu yeda.registr@gmail.com 
Napište tam prosím své jméno, zem kterou zastupujete a které kategorie se zůčastníte. Napište tam prosím taky ve kterých dnech se zůčastníte. Jestli jen v neděli a nebo i v sobotu.
Pro nabíjení baterek prosím používejte safe bagy.
V případě dotazů mi napište na registrační email...
Těšíme se na Vás
S pozdravem Viki
ENG
YEDA BORY MALL RACE 2019 is the first event we organized in 2019. It will take place at about the same time and place as last year. And this in the BORY mall shopping center in Bratislava / SK.
Venue: Bory Mall, Lamač 6780, Bratislava, 841 03, Slovak republic,   GPS  48.205333  17.032013
We will be in BORY mall two days 25 and 26 May 2019. On Saturday May 25 there will be free driving and training. The race will begin on Sunday, May 26 at 9:00 am. The track will be the same for both days.
Also this year we will have prepared a carpet track in the largest area in BORY mall. We will have tables, chairs, power outlets and a raised podium for the riders.
The assumption is that we will go both categories. AWD and RWD. A minimum of 6 riders is needed to make the category happen.
Entry fee for one driver and one category is 400, -CZK / 16 €. Entry fee is payable on the day of the race. Competitors have access to the track for both days. If somebody wants to drive a non-race only, he can only be on track on Saturday 25.5. The price for free driving is 200, -CZK / 8 € per person.
Tires are not included. For the RWD category, the DS-Racing MarkII RW-001 and the AWD DS-FFFF DS-016 are prescribed. It will also be possible to purchase them on place. The rubbers must not be scratched and roughened.
Registration to the race is accepted by Wednesday, May 22, 2019 at yeda.registr@gmail.com 
Please enter your name, the country you represent, and which categories you will participate in. Please write there also in which days you will participate. If only in Sunday or also in Saturday.
Please use safe bags to charge the batteries.
If you have any questions, send me a mail...
We look forward to you...
Sincerely, Viki
Registered drivers
1)  Martin Šrédl                 CZ       RWD + AWD
2)  Marcel Fapšo                SK       RWD
3)  Bazel van Veldhuizen    HU       RWD
4)  András Kéringer           HU       RWD
5)  Zsolt Gráf                    HU       RWD
6)  Róbert Király                HU       RWD
7)  Attila Gyenes                HU       RWD + AWD
8)  Gábor Sasvári               HU       RWD
9)  István Hasovits             HU       RWD
10)  Ádám Jusztus              HU       RWD 
11) Attila Hájer                   HU                 AWD
12) György Ali                    HU       RWD
13) Ricsi Retek                   HU       RWD
14) Attila Kováts                 HU       RWD
15) Csikós Dominik             HU       RWD
16) Tomáš Drga                  SK       RWD
17) Martin Čáslava              CZ       RWD + AWD
18) Vojta Křeček                 CZ                  AWD
19) Petr Vondrus                 CZ       RWD
20) Václav Jireš                  CZ       RWD
21) Luděk Odstrčil               CZ       RWD
22) George Mikulik            NSR       RWD
23) Zdeněk Flajsar             CZ        RWD
24) Ján Majerník                SK        RWD
25) Orosz József                HU        RWD
26) Katona Péter                HU        RWD
27) Ponghó Tamás              HU        RWD
28) Petr Gál                       CZ        RWD
29) Honza Šidik                 CZ         RWD
30) Lukáš Janík                 SK         RWD 
31) Petr Koukal                 CZ         RWD
32) Christian Řezníček       CZ         RWD + AWD
33) Rosťa Štourač             CZ         RWD
34) Petr Folvarčný             CZ         RWD