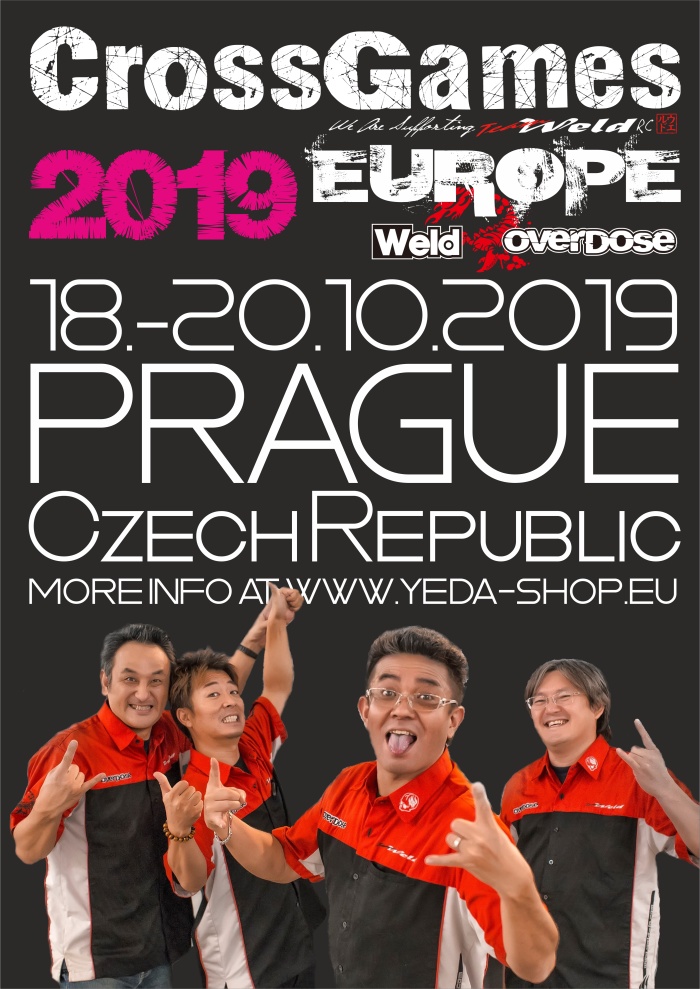 [ENG]
 Basic information about Cross Games Europe 2019
18. - 20.10.2019
PVA EXPO Letnany - Prague
Cross Games will be a part of the model exhibition Model Hobby 2019. It is being held since Thursday 17.10.2019 till Sunday 20.10.2019. Pits will be available during the entire Model Hobby. Thursday and Friday for free practice for anyone coming. Competition on weekend just for registered drivers. Model Hobby entrance and tires are part of the entry fee.
Each driver CAN drive in both categories. Entry fee for each category is € 39,-, for both categories = € 78,- . Within the registration fee, each drifter has free entrance to all 4 days and tires for the registration category. The maximum number of registered riders is 100 people.
Cross Games are a part of Japanese competition series, judges are Atsushi Ito and Shinichi Yodo. Of course accompanied by Takayuki Shida, who will provide us the translation. Right now We're not sure about the names of Japanese drivers, but We would be happy to bring back 2018 World Champion Ryo Ishii...;-)
If You come by plane, Václav Havel's AirPort is on the other side of the city. I can arrange transport for You, but You must let me know the time of Your arrival.
Accomodation:
I am not able to arrange accomodation for  so many people, I can only recommend using Booking.com. There is a Metro station not far from PVA, so You can choose according to Your needs. 
INFORMATION for racers arriving at Václav Havel Airport. The airport is on the opposite side of Prague than the PVA EXPO Letňany, where Cross Games will take place. It is 25 km apart. There is no metro to the airport, only buses and taxis are available. At the Cross Games venue in Letňany, Prague is the final metro stop. We are able to arrange transport from the airport to the fair and then to the hotel for a more reasonable fee than the Prague taxi ... We also have a limited number of rooms in a nearby hotel. If you are interested in these services, please let me know in the registration email. Next, I'll contact you ...
PARKING
There is a large parking lot at the Exhibition area. You should park at the Entrance D. Parking fee is CZK 150,-/6€ per day, it is paid when leaving the parking lot. 
OPENING HOURS for Exhibitors
Thursday-Friday 9.00-18.00
Saturday 8.00-18.00
Sunday 8.00-16.00
You will have Exhibitors pass which will allow You to enter an hour earlier and leave later. 
REGISTRATION= Registration will starts 1.7.2019
To sign in send an e-mail to 
crossgameseurope@gmail.com
 containing Your name, country and category You want to compete in. Also note, if You want to pay via bank transfer or PayPal. You will then get a confirmation e-mail with the invoice. You Registration will not be valid without the payment. 
If you have an escort with you, I can arrange a free ticket for him. But it is impossible to count on 100 more free tickets for 100 competitors!
Basic rules:
The chassis must have two axles and four wheels. The chassis must be 257mm or 275mm in the currently available wheelbase. The batteries can be used with 6CL Nimh / NiCl, Li-pol 2S. Motor commonly used in drift cars without Turn restrictions. The Lipo Bag must be used for charging. Tires must be used for the race, which the competitors will receive when registering a participation. Tires for RWD will be DS-Racing RW-009 RWD FFFF zero Mark II and for AWD DS-Racing DS-016 Competition Series II FFFF Zero.
More info coming soon. 
Important warning!!!! Bring a good mood with you!!! :-) :-) :-)
Tomáš "VIKI" Viktora
[CZ]
Základní informace ke Cross Games Europe 2019.
Termín je 18. a 20.10. 2019.
Místo konaní je Výstaviště Praha Letňany, 
Cross Games se budou konat jako součást modelářské výstavy Model Hobby 2019. Tato výstava se koná od čtvrtku 17.10 do neděle 20.10.2019. Celé zázemí pro Cross Games bude přichystáno po celou dobu výstavy od čtvrtku do neděle. Čtvrtek a pátek budou volné dny s volným ježděním a tréninkem. Samotný závod bude pouze v sobotu a neděli. Ti z Vás kteří chtějí, múžou jezdit celé čtyři dny. V sobotu a neděli pouze jezdci přihlášení k závodu. O víkendu nebude prostor pro volné ježdění.
V rámci registračního poplatku ma každý drifter volný vstup na všechny 4 dny a gumy na danou kategorii. 
Každý jezdec se MÚŽE účastnit obou kategorií. Je to jen na jeho rozhodnutí... Startovné pro každou kategorii je 990,-Kč/ 39,-€. Na obě dvě kategorie 1980,-Kč/ 78,-€. V ceně je volný vstup na výstavu na všechny čtyři dny, židle s místem u stolu, přístup k elektrice a kompletní sada gum na registrovanou kategorii. Maximální počet registrovaných jezdců je 100 lidí.
Cross Games je japonský závod. Proto i letos budou soudci Atsushi Ito a Shinishi Yodo. Bude zde samozřejmě náš věrný tlumočník Takayuki Shida. Je zatím otevřená otázka jappnských jezdcú. Ta bude uzavřena později... Ale všichni bychom uvítaly účast mistra světa v RWD kategirii pro rok 2018 Rya Ishiho... ;-)
Pro mimo České zájemce o Cross Games, kteří mají zájem o leteckou přepravu, pražské letiště se jmenuje Leťiště Václava Havla. Je na opačné straně města. Jsem shopen Vám zajistit přepravu. Potřebuji to ovšem vědět dostatečně dopředu i s termínem a časem příletu.
Ubytování
Není v mých silách zajistit nějaký společný hotel. V žádném hotelu již není tak velká volná kapacita pro ubytování tolika lidí dohromady. Můžu doporučit k hledáni ubytování Booking.com a použít jako centrum adresu výstaviště. Každý z Vás má jiné nároky na ubytováni a jeho cenu. Takže bude ideální, když si každý vybere to své. V blízkosti výstaviště je zastávka Metra. Pak není žádný větší problém cestovat po celém městě...
Parkování.
Hned vedle výstaviště je velké parkoviště. Obvykle tam chtějí cca 150,-Kč na den. Je dobré zaparkovat co nejblíže bočnímu vchodu z toho parkoviště. Potom je to jen pár kroků do haly.
Otevírací doba výstaviště je každý rok stejná.
Čtvrtek 9.00-18.00
Pátek 9.00-18.00
Sobota 8.00-18.00
Neděle 8.00-16.00
Vy jako účastníci Cross Games budete mít vystavovatelské pasy. Vás pustí do areálu o 1 hodinu dříve než je otevírací doba a vyhosdí Vás nejpozději mezi 20.00 a 21.00 hodinou.
Registrace- Registrace začíná 1.7.2019
Pro registraci pošlete registrační email na adresu 
crossgameseurope@gmail.com
. Do emailu uveďte své jméno, zemi kde žijete a kategorie, o ktere máte zájem. RWD, AWD a nebo OBĚ....
Dále prosím uveďte, jakým způbobem budete chtít hradit registrační poplatek. Jestli bankovním převodem a nebo paypalem. Následně Vám přijde potvrzení Vaší registrace zpět na Váš email i s fakturou na registrační poplatek. Jinak nebude brána Vaše registrace v potaz.
Základní pravidla:
Podvozek musí mít dvě nápravy a čtyři kola. Podvozek musí být v běžně dostupných rozvorech náprav 257mm a nebo 275mm. Baterie mohou být použity 6CL Nimh/Nimc, Li-pol 2S. Motor běžně používaný v driftových autech bez omezení závitů. Pro nabíjení musí být použit Lipo Bag. Na závod musí být použity pneumatiky, které závodníci dostanou na místě při registraci účasti. Pneumatiky pro RWD budou DS-Racing RW-009 RWD FFFF zero Mark II a pro AWD DS-Racing DS-016 Competition Series II FFFF Zero.
Další informace budou přibývat...
Důležité upozornění!!!! Dobrou náladu sebou!!! :-) :-) :-)
S pozdravem
Tomáš "VIKI" Viktora
List of registered riders:
Registrovaní jezdci:
1) Team Weld Japan driver      JP     RWD
2) Team Weld Japan driver      JP     RWD
3) Viki                                   CZ    RWD
4) Ramon Malovec                  SK    RWD
5) Jiří Mikulík                         CZ     RWD
6) Jiří Čefelín ml.                    CZ     AWD
7) James Simpson                 UK     RWD
8) Ondřej Maják                    CZ     AWD + RWD
9) Rafal Olinski                      PL     RWD
10) Samir Frikach                  DE    RWD
11) Bazel Van Veldhuizen       HU    RWD
12) Stefan Kroner                  DE    RWD
13) Heiko Vogel                     DE    RWD
14) Jan Smrčka                     CZ    RWD
15) Atilla Kováts                    HU    RWD
16) András Kéringer               HU    RWD
17) Sven Malcherczyk            DE     RWD
18) Sebastian Thorley            NZ    RWD
19) Marco Max Kraft              DE     RWD
20) Rudolf Czernichowski       PL      RWD
21) Milan Mejzlík                   CZ      RWD
22) Wiktor Słomski                PL      RWD
23) Markus Amann                DE      RWD
24) Grzegorz Kopeć               PL      RWD
25) Artur Wilk                       PL       RWD
26) David Fock                     SWE      RWD
27) Jennie Olsson-Örn           SWE     RWD
28) Adrian Janiszewski           PL       RWD
29) Radoslaw Rogala              PL       RWD
30) Vít Pfeffer                       CZ      RWD + AWD
31) Jiří Pfeffer                       CZ      RWD + AWD
32) David Kobr                      CZ      RWD
33) Hannes Lembrich             DE      RWD
34) Janni Mastoridis               GR      RWD
35) Sven Städt                      DE      RWD
36) Julian Schwarten             DE      RWD
37) Yavuz Cinar                     TR      RWD
38) Dennis Hess                    DE      RWD
39) Václav Jireš                     CZ      RWD
40) Marcin Hausman              PL       RWD
41) Marcin Wójcik                  PL       RWD
42) Adam Kaczmarek             PL       RWD
43) Radoslaw Rewinkowski     PL       RWD
44) Grzegorz Gruszecki           PL       RWD
45) Julien Boulanger               FR       RWD
46) Killian Perard Bayle           FR       RWD + AWD
47) David Plechot                   FR       RWD
48) Petr Folvarčný                  CZ       RWD
49) Bertrand Lavanceau          FR       RWD
50) Vincent Jacquelin              FR       RWD
51) Jeremi Huguet                  FR       RWD
52) Kryštof Zetek                    CZ       RWD
53) Mateusz Zimoń                 PL        RWD
54) Fésűs Máté                       HU       RWD
55) Gabor Sasvari                   HU       RWD
56) Honza Šidik                      CZ       RWD
57) Attila Hajer                       HU       AWD
58) István Hasovits                 HU       RWD
59) Attila Gyenes                    HU       RWD
60) David Mathaus                  CZ       RWD
61) Dan Cotton                       UK       RWD
62) Petr Koukal                       CZ       RWD
63) Manuel Schussek               AT       RWD
64) Martin Šrédl                      CZ       RWD
65) Jens Vilstrup                     DK       RWD
66) Karel Šíma                       CZ        RWD
67) Vojta Křeček                     CZ       RWD
68) Pascal Bieri                       CH       RWD + AWD
69) Petr Vondrus                     CZ       RWD
70) Zsolt Gráf                         HU       RWD
71) Róbert Király                    HU       RWD
72) Ricsi Retek                       HU       RWD
73) Diego Arter                      CH       RWD   
74) Jiří Čefelín st.                   CZ       AWD
75) George Ali                        HU       RWD
76) Simen Gulbrandsen           N         RWD
77) Sondre Gulbrandsen          N         RWD
78) Marco Thali                       CH       RWD
79) Michał Wąsik                     PL        RWD + AWD
80) Paweł Wąsik                      PL        RWD + AWD
81) Christian Řezníček             CZ        RWD + AWD
82) Ivan Zatřepálek                 CZ        RWD
83) Michel van den Hoogenband NL       RWD
84) Owen Slagtand                    NL       RWD
85) 
Erhan Akyüz                       TR        RWD
86) Alexander Gottsmann          AT        RWD
87) Nicolas Unser                     CH        RWD
88) Luděk Odstrčil                    CZ        RWD
89) Dietmar Poerschke             DE        RWD
90) Kim Grande                        N         RWD
91) Michael Zorzin                    IT        RWD + AWD
92) Martin Bubla                      CZ        AWD
93) Lukáš Janík                        SK       RWD
94) Philippe Nicolet                  CH        RWD
95) Dominik Csikós                  HU        RWD
96) Péter Katona                      HU        RWD
97) Tamás Ponghó                    HU        RWD
98) Dominik Schultz                 DE        RWD
99) Zdeněk Flajsar                 CZ         RWD
100) Jean-Philippe Junod           FR         RWD
101) József Orosz                     HU         RWD
102) Rok Stopar                       SI          RWD + AWD
103) Martin Čáslava                  CZ         RWD + AWD
104) Dennis Bjune                     N          RWD
105) Rosťa Štourač                   CZ         RWD
106) Marcel Fapšo                    SK         RWD
107) Daniel Kratochvíl              CZ          RWD
108) Sven Businger                  CH         RWD
109) Daniel Rosenberger           AT         RWD
110) Karel Sulanský                  CZ         RWD
111) Marek Stáňa                     CZ         RWD
112) Jacob Burns                      UK         RWD
113) Tomáš Drga                      SK         RWD
114) Kenth Moya                      SWE       RWD
115) 
Maurice van der Starre      NL          RWD
116) Gianfranco Russo              IT           RWD
117) Stefano Pizzini                  IT           RWD
118) Krzysztof Osiadacz            PL           RWD
119) Noah Mjelde                     N            RWD
120) Roman Nahum                 CH           AWD
121) Jakub Strojec                   PL           RWD
122) Lukáš Skořupa                 CZ           RWD
123) Mario Zugasti                   ESP         RWD