YEDA / PROTENG Championship 2018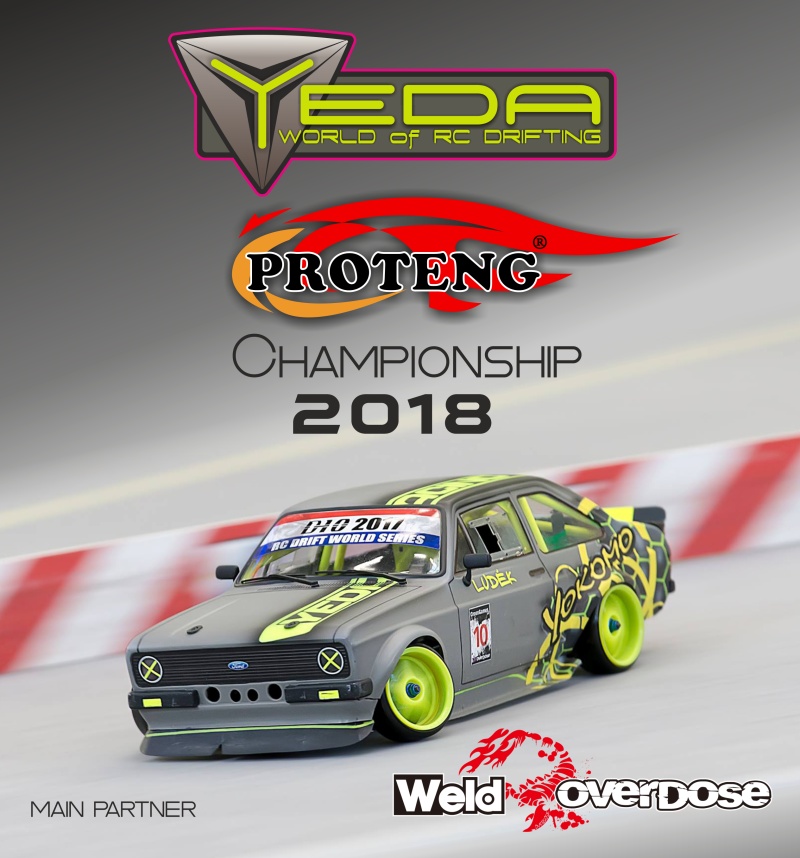 Milí drifteři
Jako již každý rok, i letos pro Vás budeme organizovat Česko-Slovenský šampionát v RC driftu. I letos se pojede o Československého DKje v kategorii  AWD a RWD. Letošni sezóna je v něčem odlišná a nebo vyjímečná od těch předchozích. Poprvé se mi podařilo sehnat spolusponzora, takže se můžete těšit na ceny pro první tři jezdce v každé kategorii a v každém kole. Za první místo bude kupón na nákup v Yeda-shopu v hodnotě 100€/2500,-Kč. Za druhé místo kupón na 50€/1250,-Kč a za třeti flek bude kupón na 20€/500,-Kč.
Sezóna 2018 bude mit cca 7-8 kol. Dvě kola budou v Čechách, 3-4 na Moravě a 3-4 v Bratislavě. Všechny kola se pojedou na koberci. Předepsaná kola pro kategorii RWD jsou i letos DS-Racing Mark II RW-001 ale u kategorie AWD dochazi ke změně. Tam jsou nově předepsané gumy DS-Racing FFFF DS-016. Gumy můžete mít i starší-použité, ale nesmí být poškozeny nebo zdrsněny.
Dear fellow drifters,
just like every year, even in 2018 will we have Czech-Slovak RC Drift Championship. Also this year will we give You a chance to fight for DK title in AWD and RWD category. This season is a bit different or maybe special. For the first time we have a new sponsor, that means You will get prices for the first three drivers in each category each round. All first three drifters will get a coupon from yeda-shop.eu, 100€ for the winner, 50€ for the second one and 20€ for the third one.
2018 season will have about 7-8 rounds. 2 rounds in Bohemia, 3-4 in Moravia and 3-4 in Bratislava. All rounds will be on carpet. Tires for RWD category are DS-Racing Mark II RW-001 just like last year, but there is a little change in AWD category. New tires for AWD are DS-Racing FFFF DS-016. You can have Your used tires, but they cannot be anyhow damaged or roughened.
Races dates…
Předpokládané termíny závodů...
1.kolo/round - 17.3.    Proteng drift arena Bratislava - SK
2.kolo/round - 5.5.      Strašice -CZ
3.kolo/round - 26. a 27.5.    BORY MALL - Bratislava - SK
Drift party    - 30.6.    YEDA arena - CZ
Drift party    - 1.9.    YEDA arena - CZ
4.kolo/round - 29.9.      Proteng drift arena Bratislava - SK
CROSS GAMES EUROPE 2018     28.10.  Model Hobby Praha Letňany
5.kolo/round - 8.12.    Proteng drift arena Bratislava - SK
Z organizačních důvodů je zapotřebi se do každého kola registrovat na emailu yeda.registrace@gmail.com
Do emailu napište své jméno a kategorii do které se registrujete. Cena za registraci zůstáva stejná jako v posledních dvou sezónách, tedy 16€/400,-Kč na 1 kategorii a nebo 24€/600,-Kč na obě kategorie. Platit sebudevždy na místě. Od nás bude vždy zabespečeno misto u stolu pro závodnika, jedna židle a přístup k el.proudu. Od Vás jsou očekávány Safe bagy a PŘEZŮVKY!!!
Další informace budou dodány...
It is necessary to send Your registration for each round to yeda.registrace@gmail.com
Registration should contain Your name and category You register in. Registration price is still the same, 16€ for 1 category or 24€ for both categories. Payment is always at the competition. You will always have a secured spot for the competitor at the table with one chair and access to electricity. You must have Safe Bag for charging and slippers.
More information will follow…
Přihlášení jezdci na 3. kolo/ Login riders on the first lap  ---- 26.-27.5. BORY MAll, Bratislava, SK:
Třetí kolo se přesunulo z Proteng areny do obchodního centra Bory Mall , které leží na příjezdu do Bratislavy po dálnici od Brna-CZ.
V sobotu bude volné ježdění. Pro účastníky závodu zdazma. Pro neúčastníky závodu za poplatek 10€. Závod se bude konat v neděli 27.5. od 9.00 hodin. V Bratislavě je možné přespat ve vlastním spacáku již od pátku až do neděle v Proteng areně. Pro účastníky závodu je spaní zdarma. V areně je sprcha. Požadavek na přespání je potřeba napsat do registračního emailu. V sobotu bude dráha přístupná od 9.00 do 21.00 hod.
RWD
1) Martin Šrédl
2) Martin Čáslava
3) Zdeněk Flajsar
4) Petr Koukal
5) Rosťa Štourač
6) Attila Kováts
7) András Kéringer
8) Katona Péter
9) Tamás Ponghó
10) Jan Šidik
11) Luděk Odstrčil
12) Christian Řezníček
13) Gergely Bodnar
14) Tomáš Drga
AWD
1) Miroslav Jurek
2) Martin Šrédl
3) Martin Čáslava
4) Jiří Čefelín st.
5) Jiří Čefelín ml.
6) Ondra Trčka
7) Honza Dvorský
8) Jan Šidik
9) Luděk Odstrčil
10) Karel Sulanský
11) Christian Řezníček
12) Jozsef Orosz
13) David Buček
14) Tomáš Drga